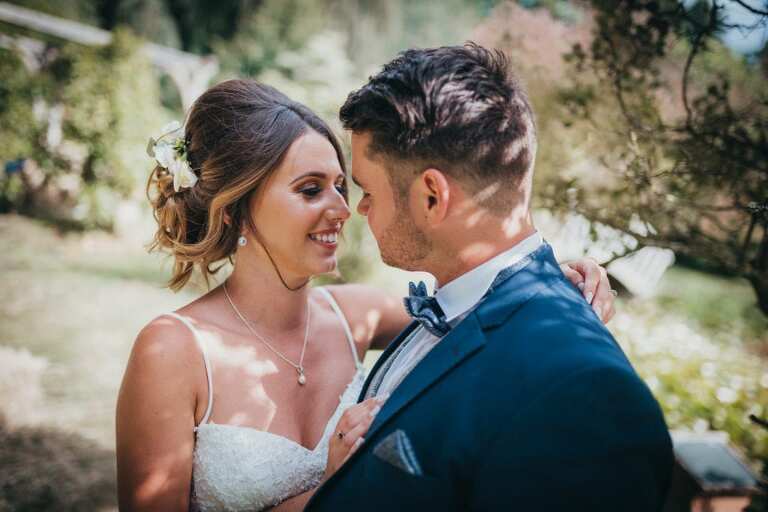 One of our gorgeous couples Harriet and Jacob featured in Your South Wales Wedding Magazine, having their ceremony at St Michaels Church, Lower Machen and then celebrating at Cefn Tilla Court, Monmouthshire. Here's what Harriet had to say about their amazing day!
Why did you choose St Michaels Church and Cefn Tilla Court?
St Michaels Church, Lower Machen. It is the church that both of our parents were married at and the photos of Jacob carrying Harriet over the stile was a replica of the photos that both sets of parents took on their own wedding day. (which we had on display at our reception).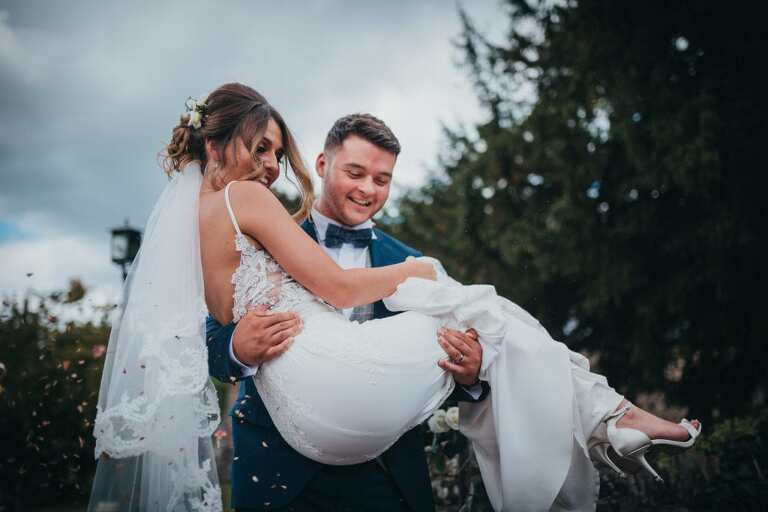 What theme/colour scheme did you go for?
The colour scheme was pinks, that shade of purple on the bridesmaid dresses and white. The theme was floral, rustic and woodland just like a garden, which was carried through the afternoon tea décor. We wanted the day to be chilled, relaxed and as do it yourself as possible, which made the whole process amazing, we decorated everything ourselves, the venue just came with the bare bones.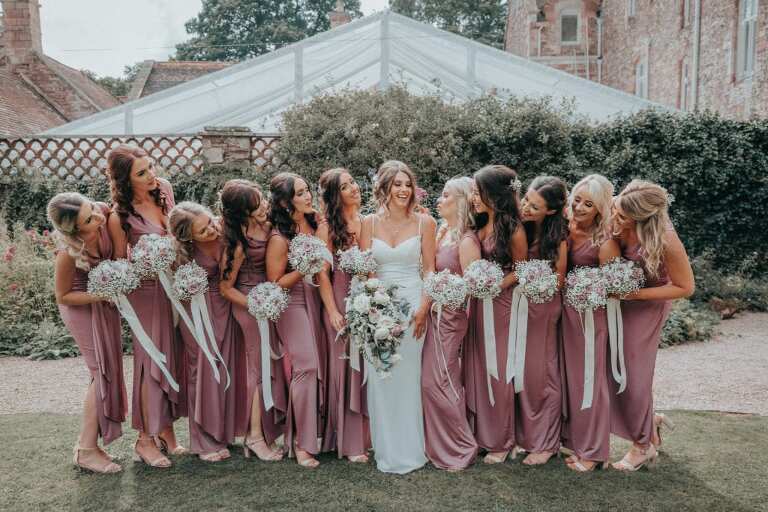 How did your love story begin?
We met at a rugby game when we were in the last year of primary school, Machen rugby club was playing in a cup final. Jacobs family was originally from Machen but moved out of the area, but his Dad was still heavily involved in the rugby club and was at the game. Jacobs family then moved back to Machen and our friendship grew and we have been romantically together since we have been 15. Jacob went to the local welsh school and I the local English school.
How did the proposal happen?
Jacob proposed at De Vere Tortworth Court in Gloucester on our ten-year anniversary. Harriet was aware that we were going away for the weekend for our anniversary, but the proposal came as a complete shock. On a walk through the grounds, Jacob gave me an anniversary card setting out the milestones of our relationship and by the time I finished reading Jacob was on his knee!
What attracted you to the venue/s you chose for the day?
We wanted a wedding that could really be our own, we went to so many venues that had the mentality of a corporate package and that is just not us. We have a lot of friends and families and we cared more about them being there than having the VIP style pay per head approach. We wanted to be able to decorate ourselves, have our own caterers, have exclusive use of the venue, our own entertainers. The majority of venues we visited wouldn't let you have anything like that, it had to be their own suppliers that you paid for each person per head, which would never have worked for our 154 day guests and 250 evening guests. Cefn Tilla was brilliant, we had the venue for the week leading up to the wedding to decorate and prepare. We had a huge wedding party and with a rota system being able to access the venue for that period of time, it really made the whole week a celebration and the week leading up to the wedding was the most relaxed that both of us had been.
Cefn Tilla Court was so flexible, as our wedding party with 11 bridesmaids and 7 groomsparty we wanted our main wedding party to stay on site. They had so many beautiful rooms that our families stayed in and we had the most beautiful bridal suite with a freestanding iron bath but as our families are large there was not enough room for our wedding party. Rob the owner of Cefn Tilla was so accommodating and let us have a third-party company come in to pitch 11 luxury bell tents complete with bedding and décor to allow 60 extra guests to stay. Our guests loved this and as Cefn Tilla was so relaxed the party went deep into the night.
We couldn't recommend them enough! we had exclusive access of the beautiful grounds and there was nothing that Rob couldn't do to help.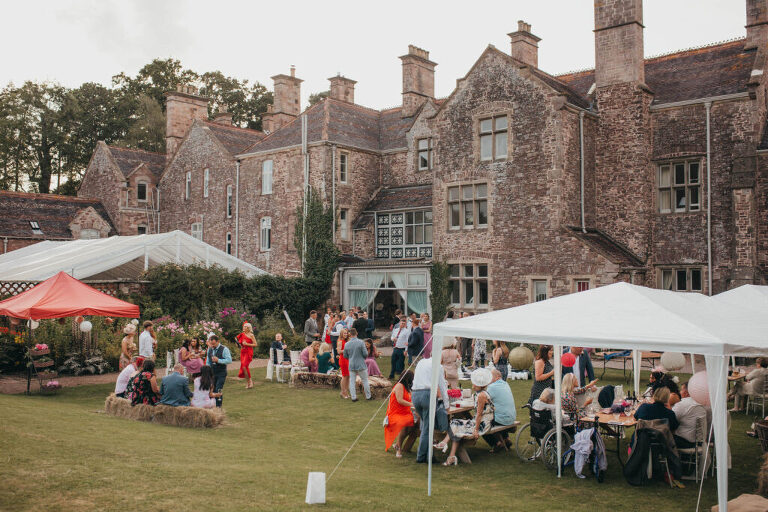 What decorative touches did you go for?
Favours: We had mini glasses, with everyone's initials engraved into them and a luggage tag across which was designed by Sian Ellis Wright. We bought an engraving pen from ebay and Harriet and her two maids of honour Fran and Anna engraved them wearing safety goggles which was hilarious. We tied the favours in with the place names and had everyone's name on the shot glasses and luggage tags. The shot glasses were filled with lemoncello from an italitan restaurant we love in Marlborough and everyone took a shot as we entered the marquee.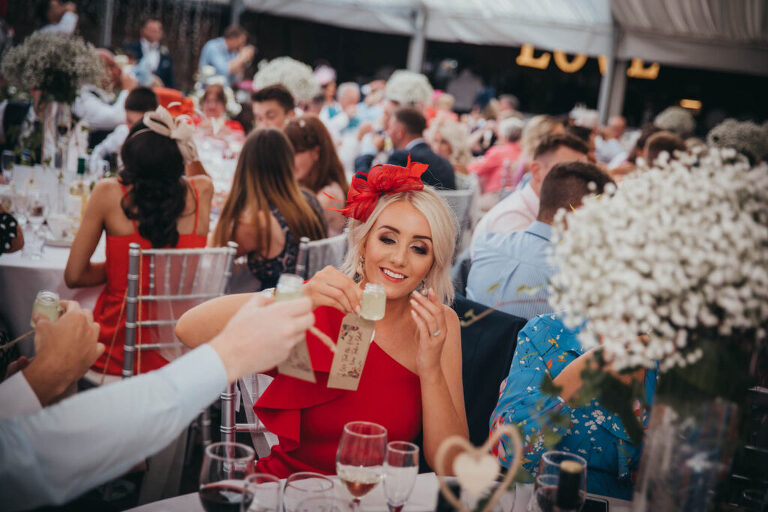 Table plan: It was designed by Sian Ellis Wright in line with our wedding stationary and welcome signs. We didn't want a theme with the tables as we hadn't gone for that throughout the day and has we had a lot of tables we didn't think it would really work.
Centrepieces: There was a lot of pinks and purples in the marquee, so I wanted to keep the centre pieces quite simple, they had to be high however because there was so much going on on the table with the afternoon tea sets. To keep in line with the garden, woodland theme, the vases was on cuts of tree and had ivy and gypsophila draped from them. Ceri (our family friend florist as described below) cleverly filled the vase with cellophane and water which made it look like the vases was coated in ice.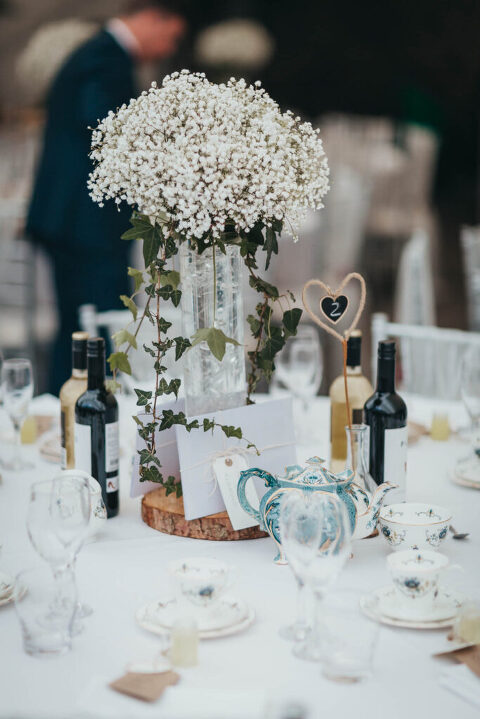 Flowers: Ceri (Ceri is explained below) took me to Cardiff flower market a few weeks before so we could discuss the sort of thing we were going for.
As I went fairly plain on my dress, I wanted a draping bouquet with lots of colour and colour to match the theme and the bridesmaid dresses.  Ceri ran a bouquet masterclass the day before the wedding for all of my bridesmaids to help them make their own bouquets whilst we enjoyed pizza and prosecco. I had seen bridesmaids' bouquets with ribbons in them and was keen to replicate that.
The arch from the church entrance, which was made by two family friends Louise and Gill, was taken to the reception and hung above the top table. The top table was coated in a long line of flowers as the top table was Lord Raglans table and needed a lot of flowers to fill it and make it stand out compared to the other tables.
We made boxes for all around the venue which was filled with herbs and lavender and given to those close to us as gifts.
Cake: We aren't really cake fans. So, we had a selection of cakes and a cake made of blocks of cheese. We love cheese and biscuits, so we had a table set out for those with a savoury tongue like ours.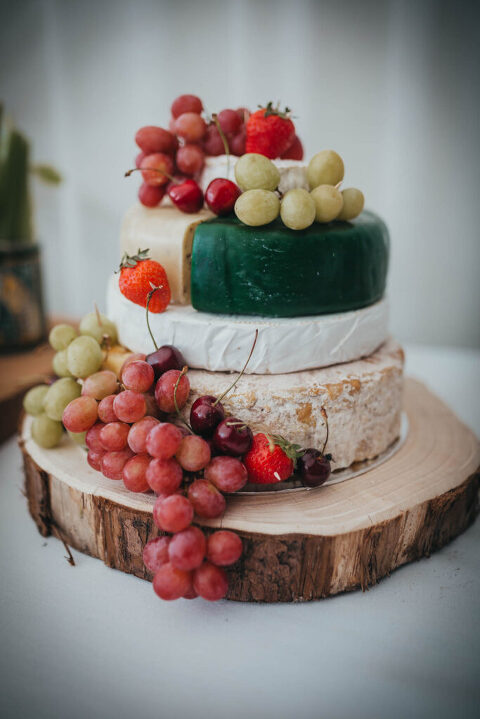 Any other venue décor: Flower wall made by the bride. Order of the day on the wooden pallet was made by the White Pallet Co and the décor for the afternoon tea our families collected throughout the year at charity shops. With a wedding of 154 guests in the day we had so many boxes of crockery which we one of the bridesmaids Shannon welded together to make the afternoon tea tiers and we had a production line of friends and family in the days before the wedding cleaning all the cups and side plates and setting them out on the table ready for Sara.
Ceri (brides mum) dried out flowers throughout the year to use as confetti and Karen Evans, a family friend put the confetti packages together.
Rob from Cefn Tilla sourced hay bails for us from a local farm to have spread over the land as we wanted everyone to relax outside and we had baskets full of blankets for the evening.
Transport: We had a vintage car for us and a vintage bus for our family, bridesmaids and groomsman.
Catering options: The one thing we are not a fan of during weddings, is a corporate stuffy three course meal and we never remember what we have eaten if anyone asks a few weeks later. We went to a wedding around 6 years ago where Sara our caterer did the food and it was amazing and we have remembered it since then and so we asked if could have the exact same. We had was savory afternoon tea themed for the main meal and warm rolls with various times of meat from our local butcher for the evening. With everyone drinking in the evening, an informal carvery roll station was just what we wanted.
What did you wear, and why did you choose that particular style?
My dress was from a bridal store in Cardiff but was very much altered and customised by a friend of the family who was a dressmaker and used to make Jacob's sisters dance dresses. The lady is extremely talented but had been ill but kindly offered to make the dress how I wanted it for this special occasion. I choose that particular style as Cinderella type dresses do not suit me. My bridal shoes are from Dune which was customised with a sticker from Etsy and I had a hand made fresh flower garland in my hair. The garland was supposed to sit on top of my head but on the day I had too much going on. The jewellery I have listed on the supplier list the clogau bracelet was a gift from my bridesmaids, the beaverbrook necklace from my parents and the earrings from Jacob, but my something blue which was a blue ring featured in the photographs was a present on the day from Lynda (my mums best friend and mother of the bridesmaids) which belonged to her mother.
My wedding scent was a present from one of my maids of honour who took me to Jo Malone on a wedding scent event to pick what I wanted.
What did your bridesmaids wear?
A different sort of shade of purple, I hadn't seen that shade before and absolutely loved it. A few of the bridesmaids are really tall so we went for a style that had a split leg so there wasn't a noticeable straight cut.
How did you entertain your guests? Did you have any performers?
The entertainment was a complete hit. For our welcome drinks we had Kieran Marsh, a local young singer who, one of my Bridesmaids Aby, arranged to sing at my home hen in the Pod in Newport. He was amazing and had everyone for all ages up dancing because I loved him so much. Aby as a wedding gift paid for him to sing in the grounds as everyone arrived.
Jeris and her band were absolutely amazing, as our first song was Romeo and Juliet by Dire Straits and it is the fact that it is by dire straits that we loved about it so Jeris sung over second favourite song straight after our first dance to get the party started which was Paulo Nutini 10/10. The party went deep into the night and Cefn Tilla were great with our guests.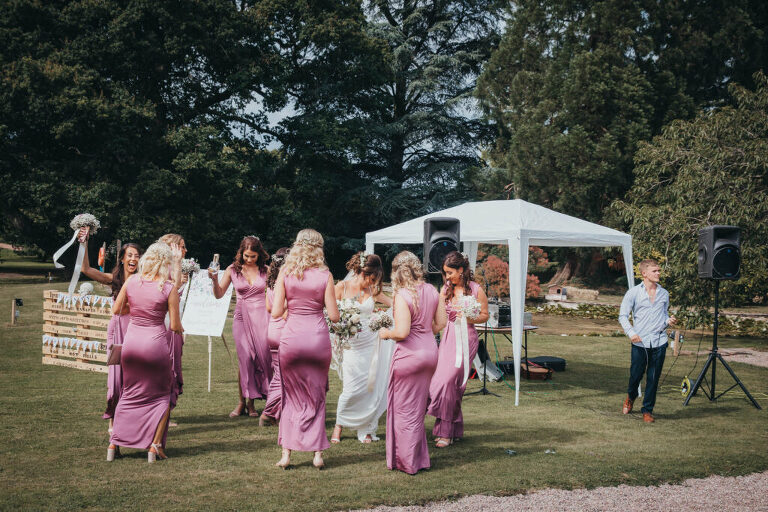 How did you both feel on the day?
The day was amazing, neither of us was nervous we just enjoyed the whole thing. We both love a party and it was just that. The day was relaxed all the timings were off, I didn't throw my bouquet, and we didn't cut a cake but that's because we were enjoying the atmosphere so much! That is just the wedding we wanted relaxed with everyone having fun, the weather was beautiful and not too hot so everyone could make the most of the beautiful grounds.
What parts stood out for you the most?
The speeches were amazing, mine and Jacobs dads, Steve and Jon delivered very emotional speeches which was loved by everyone and one of the best men Ryan gave a funny speech complete with props. As Jacob had three best men, they all had jobs to spread the load, Jamie arranged the stag, Tom looked after the ring and had all church duties and Ryan did the speech. We couldn't pick a part that stood out the most, for us it had always been about everyone being involved and having a great time which they did.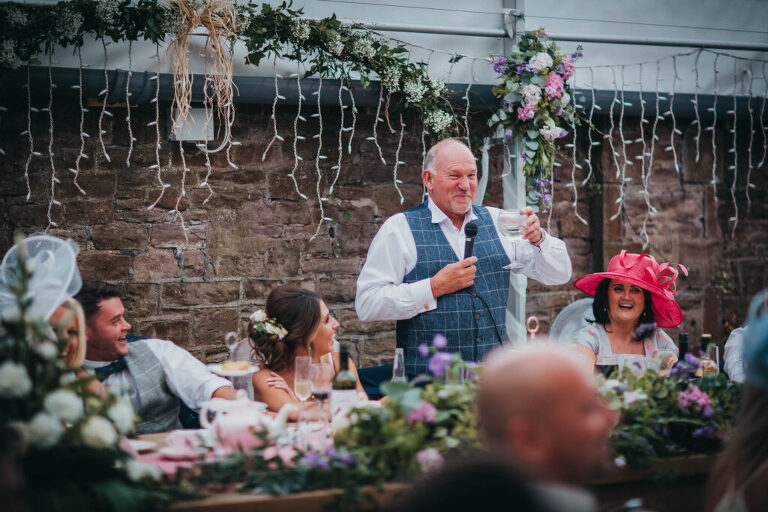 Were there any funny stories or unusual anecdotes from the day?
Our wedding was not a conventional wedding at all, the bridesmaids and glam squad got ready in the local village hall which we rented for the weekend and we took a slightly different approach to the church hymns, Harriet's bridesmaids are all characters and during one of the hymns Lord of the Dance, they all plaid the tambourine. Our grandmothers didn't quite get that bit of the wedding.
Our local vicar Dean, who has been fantastic for Machen since his appointment, carried out the most amazing service. We received so many compliments from our guests as Dean is a breath of fresh air. During the service he pulled out a selfie stick to capture all of our guests in the church.
Who/what made your day extra special?
Our family and friends, our wedding was very much a DIY wedding with everyone having a role. Our mothers Ceri and Suzanne held the whole wedding together as there was so much to do doing everything yourself.
We had so many amazing helpers, Ceri Clarkson, a friend of the family and Jacobs former textiles teacher arranged all the flowers and did an amazing job. She ran a bouquet masterclass the day before the wedding for all my bridesmaids to help them make their own bouquets whilst we enjoyed pizza and prosecco. It was the perfect day for us all to be together and chilled after all the preparations had finished and all that was left was the wedding. As there were so many bridesmaids, Lynda, Harriet's mothers' best friend was mother of the bridesmaids and kept them all in line.
Jacobs father Jon, who has a printing company arranged for personalised beer cans for welcome drinks. I always wanted to walk into the church with a harp, we had a harpist called Aisha who is the Welsh Orchestra play Cannon D for my entrance and she played several of our favourite songs while we signed the register.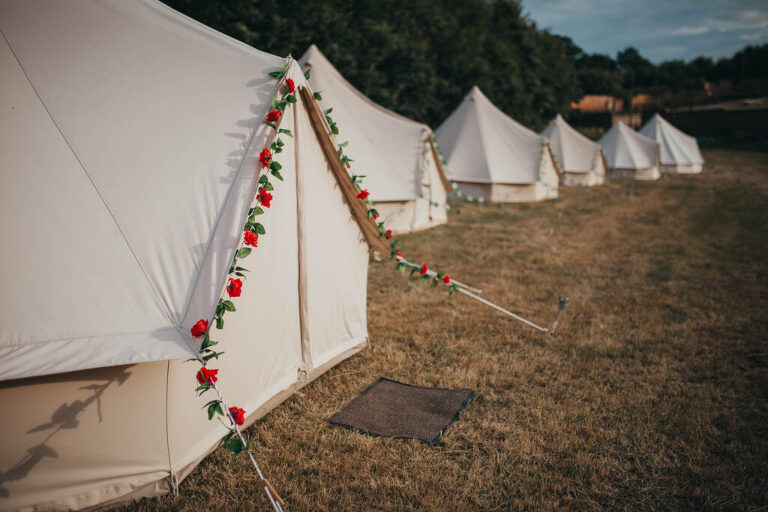 Where did you go for your honeymoon?
Cape Town and Mauritius for just over two weeks. The flights and hotel were booked through Kuoni but the excursions such as safari, shark diving, Table Mountain was booked by me. We did have skydiving booked in Maurtius but Jacob after enjoying his honeymoon a bit too much was too heavy. We loved our honeymoon and glad we went the two days after our wedding, it gave us just enough time to open our gifts and enjoy Sunday lunch with our families before having time for final packing.
Suppliers
Venue – Ceremony and organist
Company name:  St. Michaels Church
Telephone number: +44 29 2188 0212
Website: https://bmmr.church/
Where are they based? Machen, South Wales
Venue – Reception
Photographer
Hair stylists
Company name: Amor Bridal Hair and Sarah Beckett
Telephone number: 07496032252
Website: N/A
Facebook page: https://www.facebook.com/AmorBridalHair/
Instagram: amorhairbysamantha
Where are they based? South Wales
Make-up artist Bride
Make-up artist Bridesmaids x 2
Company name: Stella Makeups
Telephone number: +44 7538 842878
Website: N/A
Facebook page: https://www.facebook.com/stellamakeups/
Instagram: @stellamakeups_sw
Where are they based? Caerphilly, South Wales
Company name: Georgia Channing Make Up
Telephone number: 07507338956
Website: – Email – georgiachanningmakeupartist@hotmail.com
Facebook page: https://www.facebook.com/Georgia-Channing-Makeup-Artist
Instagram: @georgiachanningmakeup
Where are they based? Newport, South Wales
Bride's dress (boutique)
Personally customised.
The Brides Accessories, Shoes – Dune wedding collection and jewellery was Clogau and Swarovski. The flower garland was handmade.
Bridesmaids' dresses
Company name: Biba (department in House of Fraser)
Facebook page: House of Fraser
Groom's suit (store)
Company name: Slaters
Telephone number: +44 29 2066 7480
Website: https://www.slaters.co.uk/
Where are they based? Cardiff, South Wales.
Wedding cakes and cake based of blocks of cheese
Company name: Glyn Gwyn Baking Co
Telephone number: N/A email is glyngwynbakingco@outlook.com
Website: N/A
Facebook page: https://www.facebook.com/glyngwynbakingco/
Instagram: @glyngwnbakingco
Where are they based? Caerphilly, South Wales
Flowers
Family friends – Ceri Clarkson, not a company. The flowers were sourced from Cardiff Flower Market and then hand made.
Transport – Wedding Car
Transport – Vintage Bus
Stationery
Entertainment – Welcome drinks
Entertainment – Reception
Company name: Jeris Music
Telephone number: +44 7446 209433
Website: Email – jerisspencermusic@gmail.com
Facebook page: https://www.facebook.com/JerisMusic/
Instagram: @jerismusic
Where are they based? South Wales
Catering
Company name: Glyn Gwyn Baking Co
Telephone number: N/A email is glyngwynbakingco@outlook.com
Website: N/A
Facebook page: https://www.facebook.com/glyngwynbakingco/
Instagram: @glyngwnbakingco
Where are they based? Caerphilly, South Wales
And any others you feel contributed to your day?
Company name: The White Pallet Co (order of the day pallet)
Telephone number: 07906520367
Website: N/A
Instagram: @the.white.pallet.co
Where are they based? South Wales